ABOUT
In the summer of 1999, at the age of 19, Luke Menear began working for a pavement maintenance company. Luke purchased the striping equipment from the company and within a few short weeks, he made the transition from employee to entrepreneur.
Luke set out promoting his company, taking every opportunity to contact and meet with potential clients. He attended trade shows and was teachable and eager to glean from those who had years of experience.
Ambitious and hardworking, he developed the processes and techniques to expand to multiple crews. A great deal of planning, research and thought went into stream-lining staff, tools, and equipment to increase efficiency and provide excellent service at multiple sites.
It was then that Luke knew he would be able to launch more companies like his own, allowing other people to be successful in this field and offering the whole country excellent service. The idea of franchising as a form of expansion to a new generation of stripers was born. His employees, friends, and family could tell this was more than just a dream when he relentlessly set out to find and purchase 1-800-STRIPER and 1-800-STRIPER.com. He has recently begun the journey of expanding this model company as a franchise for the benefit of the whole United States.
Twenty years later, 1-800-STRIPER is in full swing, with multiple trucks heading in different directions each day. From the office staff to the crew members, our team is eager to serve all your striping needs.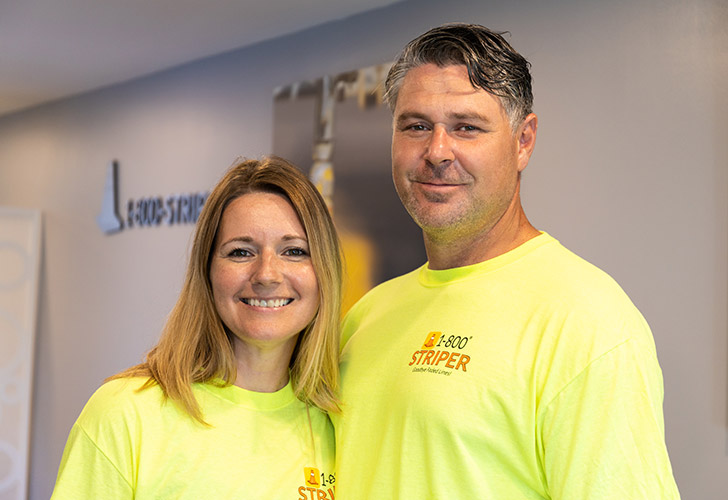 Core Values
Loyalty: Maintaining an attitude of devotion to offering a professional and reputable service in order to uphold the company name.
Integrity: Operating in a trustworthy manner, taking ownership and responsibility for commitments. Communicating openly and intentionally with colleagues and customers.
Notable: Maintaining a competitive edge by upholding a reputable standard of work.
Excellence: Diligently using state-of-the-art equipment and materials to produce and uphold an unmatched quality of striping.
Support: Assisting property owners and managers by providing public parking facilities that prevent traffic congestion and hazards, thus building a safe and vibrant community.
Mission Statement:
At 1-800-STRIPER, we understand that keeping up with pavement markings can be an overwhelming yearly task. That's why we provide a simple and quick solution for keeping parking lots safe and attractive. We believe a fresh coat of paint helps communities thrive without breaking the bank. Our driven and dependable team is dedicated to serving our customers by putting an end to faded lines one bucket of paint at a time.
Vision Statement:
Our goal is to help entrepreneurs paint their name across the nation with a reputable parking lot striping franchise.