5S Visual Management System for Businesses Explained

So, you've heard of the 5S visual management system for helping organize work environments and want to learn more about how you can apply these techniques to maximize the efficiency of your business. 
Well, you have come to the right place! 
At 1-800-STRIPER, we've helped many businesses organize their warehouse with systematic floor markings. But before we jump ahead on how you can implement this process, let's take a look at what exactly the 5S/visual management system is. 
What is the 5S/Visual Management System?
Imagine a workplace where operations are so clear that anything outside of the ordinary could be easily self-corrected.
This is exactly what the 5S system aims to do – to educate and communicate with every employee in a visually understanding and well-ordered way.
Other benefits include positively affecting the efficiency and commitment of employees, maximizing space and storage, improving training and safety, and more. 
Some examples of 5S visual management include using shadow boards that outline where tools go on a shelf, designating walkway paths for safety, and putting down bright floor markings to designate space for specific equipment.
What Does 5S Stand For?
The 5S system is believed to have originated in Japan in the 1970s as a way to improve production time and streamline workplace efficiency. 
The methodology is broken down into the following five pillars:
Seiri (sort) – to sort items and eliminate what isn't needed, which reduces time looking for what you need and the possibility for unnecessary distraction. 
Seiton (set in order) – to arrange necessary items in an optimal place, and therefore improving workplace function. 
Seiso (shine) – to regularly clean and inspect said areas and furthermore enhance the workplace/detect any problems.
Seiketsu (standardize) – to standardize and repeat the previous steps through scheduling and other procedures. 
Shitsuke (sustain/self-discipline) – to ensure the system is being followed by everyone and implement training and improvements as necessary.
Many well-known businesses use this system in their workplace to better function operationally, including companies like Amazon, Toyota, Boeing, Harley-Davidson Motor Companies, and many others. 
How Can You Implement 5S in Your Workplace?
The great thing about the 5S visual management system is the endless ideas out there to help better organize your operations. From dashboards to labels, wall signs and banners – you can experiment with different methods and see what works for your business. 
One type of visual management we've found to be a staple in any well-organized 5S system is systematic floor markings. These markings make it easy to communicate where equipment or materials should be located, outline specific work areas, or even caution employees about hazardous areas. 
Some businesses use tape to accomplish this. However, if your company is serious about implementing a 5S system, we recommend making it permanent with some quality paint since tape can peel off over time and potentially become a tripping hazard for employees. 
Below are some photos of painted 5S floor markings we've striped over the years to help give you a better idea of how this visually looks in a warehouse setting.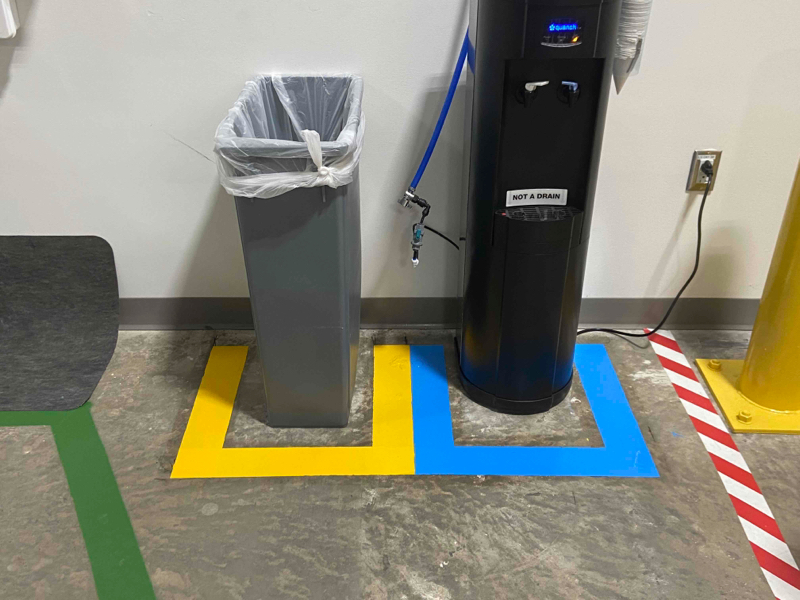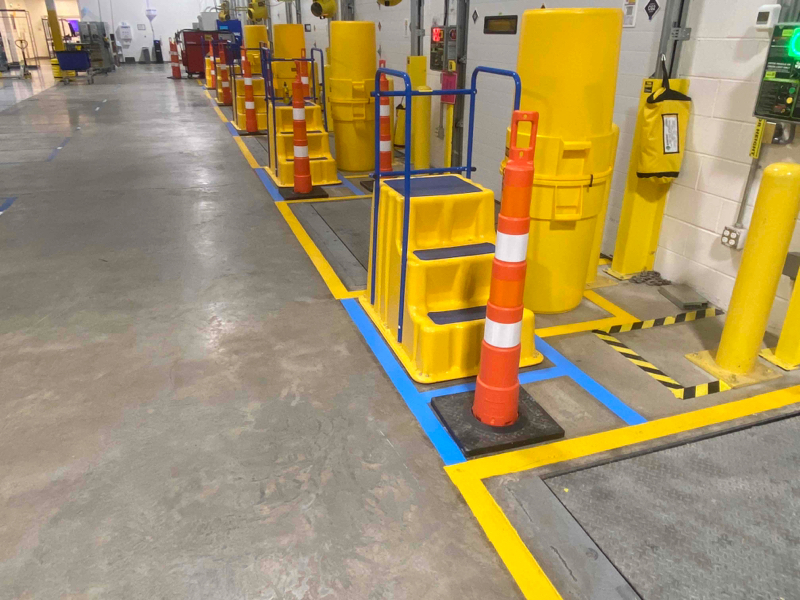 As you can see, floor markings by means of paint can not only help visually manage and organize equipment, but it can also help a space look cleaner and maximize the area to its full potential. 
Are You Ready to Put 5S Into Practice?
We, along with many other companies, believe the 5S system is the cornerstone to creating a work environment that operates smoothly and, in turn, leads to better products/services.
However, we understand that this process can be intimidating, and knowing where to start can be difficult, especially the floor marking aspect!
At 1-800-STRIPER, we're here to help. With our state-of-the-art equipment, we'll make your floor markings look neat and pretty – plus, we'll get them down quickly, so you don't have to put business on hold. 
So, give us a call at (585) 663-6609 or email us at office@1800striper.com to schedule a walk-through. We'd love to chat with you about your 5S ideas and how we can help introduce them into your day-to-day operations! 
Do you or someone you know want to start their own business through franchising? 1-800-STRIPER is now offering franchise opportunities for entrepreneurs! Check out our website today to see if your territory is available.