SERVICES
Our reputation is on the line…
1-800-STRIPER is a full-service parking lot striping company that offers striping services for both commercial and industrial parking lots of all sizes. For over two decades, property owners have relied on our expertise for their parking lot needs. We handle jobs of all complexities and ensure that your project is handled in a timely and professional manner. Our staff is here to assist the community 24/7. Whether you need routine maintenance, or an emergency job handled, 1-800-STRIPER is here to serve you!
New Layouts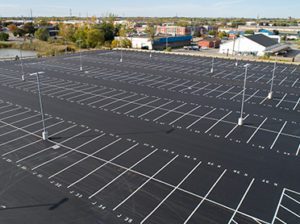 A proper parking lot layout is critical to any business that serves the public. We can help customize your design to fit your specific needs and ensure safety, ADA compliance, and proper traffic flow.
Re-striping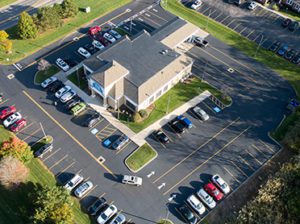 Our restripe crews put a fresh coat of traffic marking paint over your existing lines and stenciling. It is necessary to restripe annually because your lines will fade from UV rays, wear down from traffic, or other weather-related elements. You can also use this as an opportunity to make changes to existing layouts. Nothing beats a fresh coat of paint!
ADA Compliance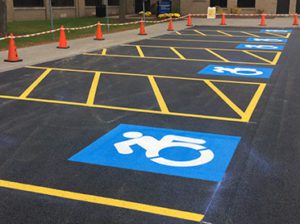 Since the Americans with Disabilities Act was signed into law, all property owners are required to provide the proper amount of handicapped-accessible parking stalls. We can help you comply with these standards by upgrading your facility to ensure ADA compliance.
Sport Court and Playground Markings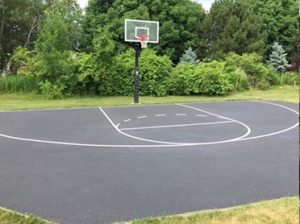 We layout & paint exterior striping for all different types of sports. From tennis and basketball courts to four square and hopscotch, we provide striping services for all your gaming needs.
Temporary Striping: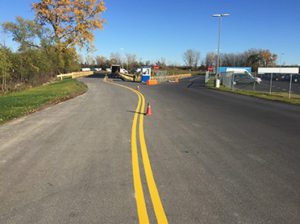 Our striping work can be found on grass, gravel, pavement, or any other surface where temporary striping is needed. This type of application is most common for special events, lane changes, and construction sites.
Interior Striping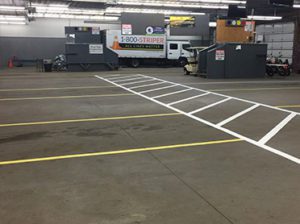 We provide a variety of interior floor marking options depending on your needs. From lines in a parking garage or pedestrian walkways in a factory, we are committed to handling every job with complete dedication and an eye to detail.