The History Behind the Handicap Symbol

Do you know the history behind the handicap symbol, otherwise known as the "International Symbol of Accessibility" (ISA)? 
This iconic symbol of a white figure in a wheelchair set against a blue background has been used internationally for more than 50 years now! However, many don't know that the symbol was recently modified and is already being used in states like New York and Connecticut. 
Let's take a look at the history behind this important logo, why it changed, and what this means for the parking lots in your community. 
Handicap Symbol History 
The famous wheelchair logo made its debut in 1969 by a Danish student named Susanne Koefoed.
Koefoed attended summer lectures at Stockholm's art and design college, where she was likely influenced by Victor Papaneck, an American designer and educator who believed the world needed to rethink the portrayal of disabled people (both mentally and physically).
It was during a competition for Rehabilitation International who was looking for a symbol to designate handicapped accessible areas that Koefoed presented her design of a wheelchair.
Several board members commented, "a slight inconvenience with the symbol is the equally thick lines, which may give an impression of a monogram of letters. With a 'head' on the symbol, this inconvenience would disappear."
The committee decided to go with Koefoed's design under one condition: add a simple circle to the image so the figure would have a head and help distinguish the second line as a person in the wheelchair. The design would also be made white and given a royal blue background for contrast.
 Once the United States signed the Americans with Disability Act (ADA) into law, it would be adopted as the official "International Symbol of Accessibility." Today the handicap logo can be found everywhere from parking lots, stairs, elevators, bathrooms, and more to signify whether they're handicapped accessible. 
Why Did the Handicap Logo Change? 
Over the years, many people have suggested that the handicap symbol needs to be updated because it doesn't accurately represent people with disabilities (statically confined to a wheelchair). 
 Artist Sara Hendren and philosophy professor Brian Glenney have since made changes to the design, starting with the figure's head tilting forward, which represents an awareness of the disabled person's mobility and that they are in control of where they are going.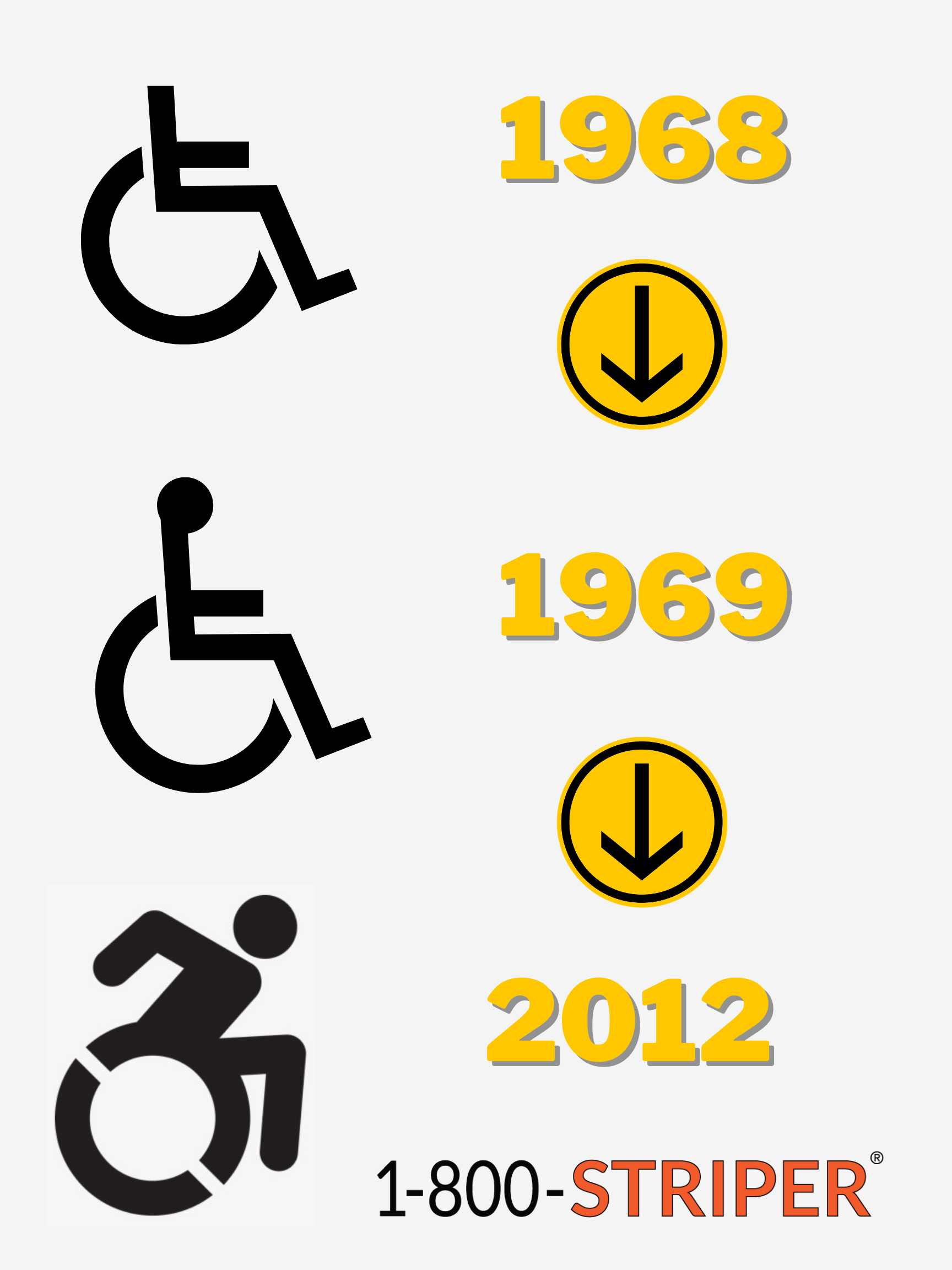 The person's arms are also tilted backward, which further represents how a person with a disability functions at work and in the community. Since the logo's new debut, it has received mostly positive feedback, with many agreeing that the world should view disabled people in a more positive light. 
What Does This Mean for Your Parking Lot?
 As a manager of a parking lot, you might be wondering what all this means. After all, complying with ADA standards is the law and ensures there are enough handicap-accessible parking spaces for your visitors. 
 You may have noticed the new handicap logo showing up all across the United States. However, the logo has not been adopted or endorsed by the U.S. Access Board at this time, which means that the old symbol has not officially been replaced by law. 
 The new handicap parking symbol has since been approved and is officially being used in states like New York and Connecticut, so if you're located in these areas and haven't updated your handicap logo, you might want to consider giving your lot a makeover! 
Is Your Parking Lot ADA Compliant?
Now that you know all about the history of the handicap logo, are you wondering whether or not your parking lot is ADA compliant? 
Be it parking for the disabled, expectant mothers, veterans, or just a personalized pick-up area; we'll make sure your lot is inviting for people of all walks of life. Visit our website at 1800striper.com and fill out a form for a free estimate or give us a call at 1-800-STRIPER! 
For franchise opportunities with 1-800-STRIPER, contact 1-800-323-4700 or visit 1800striperfranchise.com to learn more.